The cumulative and interactive effects of climate change, as well as the threat and perception of climate change, adversely impact individual and societal health, mental health, and well-being. The following figure illustrates how climate change impacts create cascading and interrelated mental, physical, and community health effects. These impacts include exposures to higher temperatures and extreme weather events as well as vector-borne disease transmission, degraded air and water quality, and diminished food safety and security.
Figure 8.2: Impact of Climate Change on Physical, Mental, and Community Health
Extreme Weather Events
In the United States, the mental health impacts of extreme weather mainly have been studied in response to hurricanes and floods1,2,3,4,5,6,7,8 and, to a lesser extent, wildfires.9,10,11,12 Though many studies discuss the mental health impacts of specific historical events, they are demonstrative of the types of mental health issues that could arise as climate change leads to further increases in the frequency, severity, or duration of some types of extreme weather (see Ch. 1: Introduction and Ch. 4: Extreme Events). The mental health impacts of these events, such as hurricanes, floods, and drought, can be expected to increase as more people experience the stress—and often trauma—of these disasters.
Many people exposed to climate- or weather-related natural disasters experience stress reactions and serious mental health consequences, including symptoms of post-traumatic stress disorder (PTSD), depression, and general anxiety, which often occur simultaneously.13,14,15,16,17,18 Mental health effects include grief/bereavement, increased substance use or misuse, and suicidal thoughts.3,19,20,21,22 All of these reactions have the potential to interfere with the individual's functioning and well-being, and are especially problematic for certain groups (see Section 8.3: "Populations of Concern").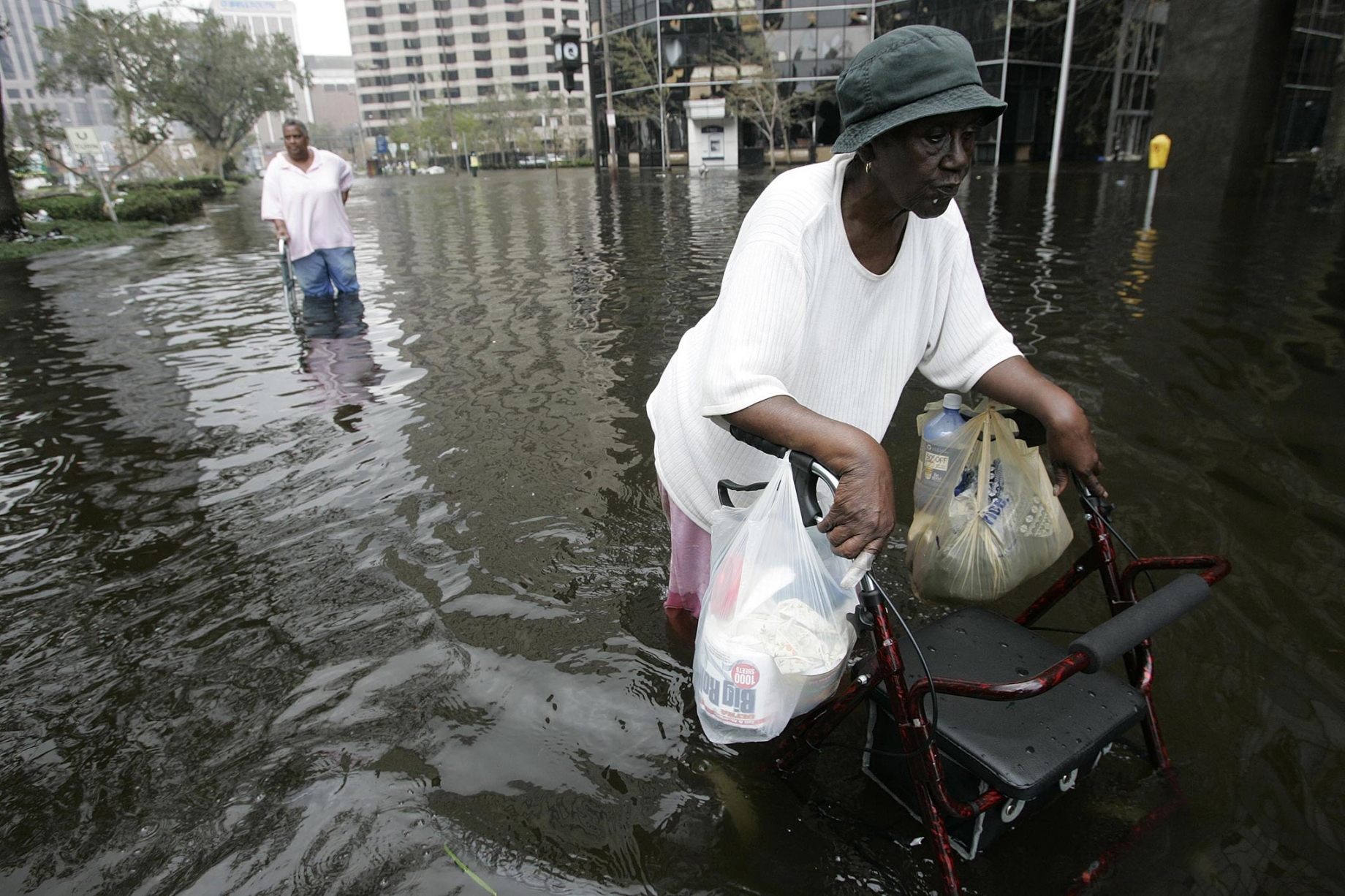 Exposure to life threatening events, like highly destructive hurricanes such as Hurricane Katrina in 2005, have been associated with acute stress, PTSD, and higher rates of depression and suicide in affected communities.2,4,7,14,23,24,25,26,27,28,29,30,31 These mental health consequences are of particular concern for people facing recurring disasters, posing a cumulative psychological toll. Following exposure to Hurricane Katrina, veterans with preexisting mental illness had a 6.8 times greater risk for developing any additional mental illness, compared to those veterans without a preexisting mental illness.32 Following hurricanes, increased levels of PTSD have been experienced by individuals who perceive members of their community as being less supportive or helpful to one another.33
Depression and general anxiety are also common consequences of extreme events (such as hurricanes and floods) that involve a loss of life, resources, or social support and social networks or events that involve extensive relocation and life disruption.4,5,7,13,14,15,17,21,25,30,34,35,36,37,38 For example, long-term anxiety and depression, PTSD, and increased aggression (in children) have been found to be associated with floods.39 First responders following a disaster also experience increased rates of anxiety and depression.21
Increases from pre-disaster rates have been observed in interpersonal and domestic violence, including intimate partner violence,40,41 particularly toward women, in the wake of climate- or weather-related disasters.21,42,43 High-risk coping behaviors, such as alcohol abuse, can also increase following extreme weather events.21,22,44,45,46,47 Individuals who use alcohol to cope with stress and those with preexisting alcohol use disorders are most vulnerable to increased alcohol use following extreme weather events.47
Persons directly affected by a climate- or weather-related disaster are at increased incidence of suicidal thoughts and behaviors. Increases in both suicidal thoughts (from 2.8% to 6.4%) and actual suicidal plans (from 1.0% to 2.5%) were observed in residents 18 months after Hurricane Katrina.3 Following Hurricanes Katrina and Rita, a study of internally displaced women living in temporary housing found reported rates of suicide attempt and completion to be 78.6 times and 14.7 times the regional average, respectively.48 In the six months following 1992's Hurricane Andrew, the rate of homicide-suicides doubled to two per month in Miami-Dade County, where the hurricane hit, compared to an average of one per month during the prior five-year period that did not include hurricane activity of the same scale.49
Climate- or weather-related disasters can strain the resources available to provide adequate mental (or even immediate physical) health care, due to the increased number of individuals who experience severe stress and mental health reactions. Communities adversely affected by these events also have diminished interpersonal and social networks available to support mental health needs and recovery due to the destruction and disruption caused by the event.50
Drought
Many regions in the United States have experienced drought (see Ch. 1: Introduction and Ch. 4: Extreme Events).51 Long-term drought, unlike sudden extreme weather events, has a slow onset and long duration.51,52 Long-term drought interacts over time with multiple environmental and social stressors to disrupt lives and livelihoods and the functioning of individuals, households, and communities.53,54,55 Prolonged drought can have visible and long-term impacts on landscapes, on rural agricultural industries and communities, and on individual and community resilience.56,57,58
Cascading and interacting economic, social, and daily life circumstances have accompanied prolonged drought in rural regions. Drought-related worry and psychological distress increased in drought-declared Australian regions, particularly for those experiencing loss of livelihood and industry.59,57,60,61,62 Long-term drought has been linked to increased incidence of suicide among male farmers in Australia.59,63
Extreme Heat
The majority (80.7%) of the U.S. population lives in cities and urban areas64 and urbanization is expected to increase in the future.65 People in cities may experience greater exposure to heat-related health effects during heat waves (see Ch. 2: Temperature-Related Death and Illness). The impact of extreme heat on mental health is associated with increased incidence of disease and death, aggressive behavior, violence, and suicide and increases in hospital and emergency room admissions for those with mental health or psychiatric conditions.66,67,68,69,70,71,72,73
Individuals with mental illness are especially vulnerable to extreme heat or heat waves. In six case-control studies involving 1,065 heat wave-related deaths, preexisting mental illness was found to triple the risk of death due to heat wave exposure.74 The risk of death also increases during hot weather for patients with psychosis, dementia, and substance misuse.70 Hospital admissions have been shown to increase for those with mental illness as a result of extreme heat, increasing ambient temperatures, and humidity.67,72,73 An increased death rate has also been observed in those with mental illness among cases admitted to the emergency department with a diagnosis of heat-related pathology.68
People who are isolated and have difficulty caring for themselves—often characteristics of the elderly or those with a mental illness—are also at higher risk for heat-related incidence of disease and death.72,74 Fewer opportunities for social interaction and increased isolation75,76,77 put people at elevated risk for not only heat-related illness and death but also decline in mental health and, in some cases, increases in aggression and violence.40 Hotter temperatures and poorer air quality limit people's outdoor activities. For many, reductions in outdoor exercise and stress-reducing activities lead to diminished physical health, increased stress, and poor mental health.40
There may be a link between extreme heat (climate change related or otherwise) and increasing violence, aggressive motives, and/or aggressive behavior.66,78,79,80 The frequency of interpersonal violence and intergroup conflict may increase with more extreme precipitation and hotter temperatures.69 These impacts can include heightened aggression, which may result in increased interpersonal violence and violent crime, negatively impacting individual and societal mental health and well-being.71 Given projections of increasing temperatures (see Ch. 2: Temperature-Related Death and Illness), there is potential for increases in human conflict, but the causal linkages between climate change and conflict are complex and the evidence is still emerging.69,81,82
Threat of Climate Change as a Stressor
Many people are routinely exposed to images, headlines, and risk messages about the threat of current and projected climate change. Forty percent of Americans report hearing about climate change in the media at least once a month.83
Noteworthy environmental changes associated with climate change constitute a powerful environmental stressor—an ongoing and stress-inducing condition or aspect of an individual's everyday environment.54,84,85 Equally concerning are adverse impacts relating to people's connections to place and identity, and consequent sense of loss and disconnection.86
About half of Americans reported being worried about climate change in a 2015 survey. However, these people tended to see climate change as a relatively distant threat: 36% said global warming would harm them personally, while more expected harm to come to people in other countries and to future generations.83 Public risk perceptions of the phenomenon and threat of climate change is associated with stigma, dread risk (such as a heightened fear of low-probability, high-consequence events), and uncertainty about the future.87,88,89,55,90,91,92,93,94,95,96,97
Many individuals experience a range of adverse psychological responses to the hybrid risk of climate change impacts. A hybrid risk is an ongoing threat or event, which is perceived or understood as reflecting both natural and human causes and processes. These responses include heightened risk perceptions, preoccupation, general anxiety, pessimism, helplessness, eroded sense of self and collective control, stress, distress, sadness, loss, and guilt.98,99,40,100,41,101,102,103,104,105
Media representations of serious environmental risks, such as climate change, are thought to elicit strong emotional responses,88,106 in part dependent on how climate change information is presented.107 People experience the threat of climate change through frequent media coverage describing events and future risks attributed to climate change. They also are directly exposed to increasingly visible changes in local environments and seasonal patterns, and in the frequency, magnitude, and intensity of extreme weather events.108,109 Furthermore, between 2012 and 2013, roughly a third of U.S. survey respondents report that they have personally experienced the effects of global warming.110,111 Exposure to climate change through the media could cause undue stress if the media coverage is scientifically inaccurate or discouraging. However, effective risk communication promotes adaptive and preventive individual or collective action.99,40,112,113,114,115
Resilience and Recovery
A majority of individuals psychologically affected by a traumatic event (such as a climate-related disaster) will recover over time.116 A set of positive changes that can occur in a person as a result of coping with or experiencing a traumatic event is called post-traumatic growth.117,118,119,120 An array of intervention approaches used by mental health practitioners also may reduce the adverse consequence of traumatic events. While most people who are exposed to a traumatic event can be expected to recover over time, a significant proportion (up to 20%) of individuals directly exposed develop chronic levels of psychological dysfunction, which may not get better or be resolved.5,19,31,37,121,122,123,124 Multiple risk factors contribute to these adverse psychological effects, including disaster-related factors such as physical injury, death, or loss of a loved one;2,7,35,125 loss of resources such as possessions or property;4,14,28,30,31 and displacement.16,126,127,128,129,130 Life events and stressors secondary to extreme events also affect mental health, including loss of jobs and social connections, financial worries, loss of social support, and family distress or dysfunction.2,4,30,31,125,131
Disaster-related stress reactions and accompanying psychological impacts occur in many individuals directly exposed to the event and can continue over extended time periods (up to a year or more). For example, three months after Hurricane Andrew, 38% of children (age 8 to 12 years) living in affected areas of south Florida reported symptom levels consistent with a "probable diagnosis" of PTSD. At 10 months post-disaster, this proportion declined to about 18%,5,28 representing a substantial decrease but still indicating a significant number of individuals with serious mental health issues resulting from the disaster event.
Emerging evidence shows that individuals who are actively involved in climate change adaptation or mitigation actions experience appreciable health and well-being benefit from such engagement.103,132 These multiple psychological and environmental benefits do not necessarily minimize distress. However, when people do have distress related to relevant media exposure or to thinking about or discussing climate change, taking action to address the issue can buffer against distress.103,132 Such engagement both addresses the threat and helps manage the emotional responses as people come to terms with—and adjust their understandings and lives in the context of—climate change.